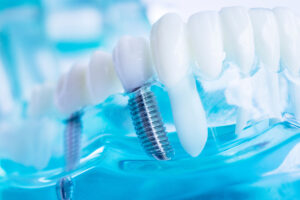 When you lose teeth, this could compromise the health, function, and beauty of your smile, and lead to major complications with your overall oral health. But for a durable and long-lasting solution to missing teeth, our team could provide implant dentistry. In today's blog, your Brighton, MA, dentist talks about placing dental implants.
The Impact of Your Missing Teeth
Your missing teeth obviously cause embarrassment and impact the beauty of your smile. But without treatment, your missing teeth could also lead to an aged appearance and even additional missing teeth! This is because the body will suspend or divert the flow of calcium and phosphates to the jaw around the missing roots. Without these nutrients, the bone tissue breaks down, losing mass and density. But by placing dental implants, you can halt this process and preserve the strength of your jaw and face, protecting your missing natural teeth and your appearance.
Securing Your New Teeth
The implant portion is a post made from biocompatible titanium, which the body will accept as natural bone structure. Our team will examine your smile and select the best position and angle to insert the post, and guide the process with digital technology. We also take steps to ensure you're relaxed and comfortable during this placement process. Over time, the body sees the post as a root, and they bond through osseointegration. You now have a new root, which stimulates the growth of jawbone tissue to keep your smile intact. If you have a jawbone too weak to support the new teeth, we could discuss grafting or sinus lifts, or options like All-On-Four, which requires less structure to support new teeth.
Tackling Minor or Severe Tooth Loss
For an individual lost tooth, we will insert the post and once the area heals, we will attach an abutment and a dental crown to complete your new tooth, providing structure that can handle daily bite forces and match the shade of your smile too. But if you have lost several teeth, we could secure a bridge or even a complete set of dentures. The posts mean the jaw remains intact so the dentures don't need to be replaced every few years. They're fixed in place too, no need to remove them for cleaning or soaking, and they can last far longer, decades or even a lifetime in some cases.
If you have any questions about treating tooth loss with dental implants, then contact our team today. Our team wants to help you enjoy a complete smile again!
Speak With Your Brighton, MA Dentist About Implant Dentistry
Talk to the Brighton Family Dental Group in Brighton, MA, today at (617) 562-5210 about how our team offers a lifelike or durable replacement for lost teeth with dental implants.