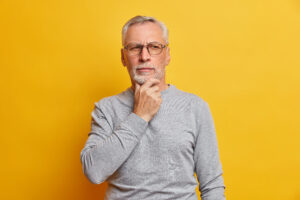 Dental implants are different from traditional bridges or dentures. While all of these can handle minor or advanced tooth loss, one only option can last for several decades to come. In today's blog, your Brighton, MA, dentists discuss what makes dental implants last, and how we can plan and place them.
Don't Ignore Tooth Loss
First, we want to urge you to see us right away when a natural tooth is lost. Otherwise, serious complications could arise. When we lose our teeth, this leaves behind a gap that could lead to misalignment as the surrounding teeth drift from position. Poor alignment not only alters the beauty of your smile, but leaves it more vulnerable to cavities and gum disease. An uneven smile also strains the bite balance and jaw joints, which means major complications like TMJ disorder and bruxism (teeth grinding) could develop. Finally, the body will notice the missing root and suspend or divert the flow of nutrients to and from the tooth, a complication that causes the jawbone to break down and lead to further tooth loss and an aged appearance. Even one missing tooth needs attention!
Osseointegration
Unlike removable dentures and traditional bridges, dental implants can allow osseointegration to take place. This means the body will accept the titanium dental implant posts as natural roots. They then bond with the jaw and act as natural roots. Not only will they support a restoration or prosthetic, but this also stimulates the growth of jawbone tissue, as the body resumes the flow of key nutrients to the surrounding jawbone structure. Your new teeth have the potential to last for decades to come, possibly a lifetime! To ensure stability, we will use advanced imaging technology to plan and guide the placement of the post at the perfect angles and positions to support a new smile.
Restorations and Prosthetics
If you have a single missing tooth, we will add an abutment to the post and then connect a dental crown, once custom-made to ensure a lifelike appearance and a comfortable fit. They not only look great, but provide a durable chewing surface too. If you have multiple missing teeth, then our team cod secure a set of dentures or a bridge, inserting multiple post we can connect the prosthetic to. If you have any questions about treating tooth loss, or about the longevity of dental implants, then contact our team today.
Do You Have a Missing Tooth?
We want to help you enjoy a full smile free of missing teeth. You can schedule a consultation to arrange your next visit, and more by calling Brighton Family Dental Group in Brighton, MA, today at (617) 562-5210. We proudly welcome patients from Brighton, Watertown, Cambridge, Brookline, and all surrounding communities.