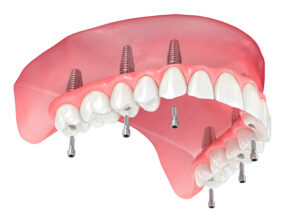 When you have one tooth, or if you're missing most of them, then we could help address the gaps in your smile with an advanced and lifelike prosthetic option. Dental implants offer a 98% success rate, and can help patients avoid the complications of missing teeth. In today's blog, your Brighton, MA, dentists talk about implant dentistry.
The Loss of Your Teeth and the Complications
Losing your natural teeth can be embarrassing, and leave behind an unsightly gap in your smile. But in addition to the obvious impacts on esthetics, this could also complicate your oral health too. The body will respond to a missing tooth by suspending the flow of calcium and phosphorus to the jawbone. Without these nutrients, the bone tissue begins to break down and degrade. Over time, this could mean additional missing teeth and an aged appearance. Dental misalignment could develop as well, along with painful jaw joint disorders like TMD or bruxism (teeth grinding). Whether you lose teeth to untreated gum disease or an injury, you should seek replacement options as soon as possible.
Placing New Roots
What makes them so durable and dependable is the fact that we don't rely on crowns, clasps, or suction to keep them in place. Instead, we use digital technology to guide the implant posts, made from biocompatible titanium, into the jawbone at specific angles and positions. The body accepts them as natural rotos, and they bond with them through a process known as osseointegration. They then have the potential to last for decades to come, as this causes the body to resume the flow of calcium and phosphorus to the jawbone. Once the placement area heals, we then attach abutments that extend above the gum line, and connect the restorations or prosthetics.
Lifelike Crowns and Dentures
For an individual lost tooth, we could connect a custom-made crown, which looks natural, blends with the smile, and can absorb daily bite forces and pressure. If you have multiple missing teeth, we could secure a custom bridge or even a set of dentures. These prosthetics will be fixed in place, never slipping or moving when you eat or speak, and providing tooth replacement that could potentially last for decades or possibly even a lifetime!
If you have any questions about how we address missing teeth, or about the benefits of implant dentistry in particular, then contact our team today.
Do You Have Questions About Implant Dentistry?
We would like to help you enjoy a lifetime of full smiles. You can schedule a consultation to talk about tooth replacement options, and more by calling Brighton Family Dental Group in Brighton, MA, today at (617) 562-5210. We proudly welcome patients from Cambridge, Brookline, and all surrounding communities.