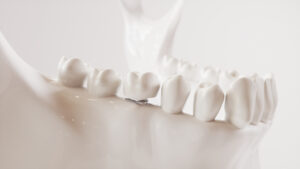 When you lose one or more teeth, this could lead to the gradual deterioration of your jawbone, causing an older appearance and further tooth loss. To reverse this and replace your missing teeth, you could benefit from dental implants. In today's blog, your Brighton, MA, dentists talk about addressing tooth loss with implant dentistry!
The Impact on Jaw Strength
When we lose our teeth, the body will take note and in response, suspend the flow of key nutrients to the bone tissue around the missing root. Without these nutrients, the tissue begins to lose mass and density, gradually breaking down in a process that causes further tooth loss and a prematurely aged appearance. But dental implants are so effective and successful because they counter this issue, something traditional bridges and removable dentures cannot do. The implant itself will be accepted as a natural root by the body, which causes the flow of nutrients to resume, preserving the smile and protecting the stability of surrounding teeth. This means you maintain your youthful features and have new teeth ready to last for decades to come, possibly even a lifetime!
Placing Implant Posts
The posts are made from titanium, which makes them biocompatible. They look similar to a small screw, and we plan and guide their placement with advanced digital imaging systems. We choose the angle and position to ensure stability and stronger jawbones. Once inserted, this will bond with the jawbone through a process known as osseointegration. When the area heals, which could take about three to four months on average, we will attach an abutment. This device extends above the gum line and is what supports the crown, the visible part of your new tooth.
Restoring Your Tooth
For individual missing teeth, we connect a crown to the post with an abutment. The crown will be custom-made to not only ensure proper bite balance and a comfortable fit, but also a lifelike appearance. We use materials like ceramic, which can be shaded to blend with your smile and also absorb daily bite forces. Unlike other dental practices in our area, we can complete the entire process, from placement to restoration, in-house. In addition to addressing individual missing teeth, we can use multiple posts to secure a bridge, partial, or even a full set of dentures. If you have any questions about our approach to implant dentistry, then contact our team today to learn more.
Ready to Replace Your Missing Tooth?
Dental implants help protect the health and strength of your entire smile. To learn more about treating your missing teeth, then schedule a consultation by calling Brighton Family Dental Group in Brighton, MA, today at (617) 562-5210. We proudly welcome patients from Brookline, Newton, and all surrounding communities.