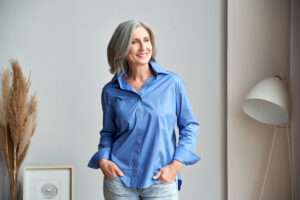 When you have lost teeth in adulthood, this could mean serious trouble for function and health in the coming months and years. To address your missing teeth, our team could recommend a strong and durable dental implant. In today's blog, your Brighton, MA, dentists talk about when a patient is ready for implant dentistry!
Qualifying for Dental Implants
Obviously, you must be missing one or more of your natural teeth, as this is an option to treat tooth loss. But more than that, we must look at the state of your smile. Often, underlying factors behind tooth loss could complicate your dental implants. Periodontitis, the advanced stage of gum disease, not only causes tooth loss could lead to implant failure without treatment to manage it prior to placement. If time has passed between your tooth loss and when you see us, this could mean the jawbone has lost mass and density, which breaks down the structure. The loss of mass and density could leave the jawbone too weak to support the jaw without first undergoing treatment with grafting or sinus lift procedures. We will carefully examine your smile with digital x-rays and intraoral cameras to see if you're ready to receive these new teeth!
Placing Your New Roots
Using digital technology, we will choose the best area and angle to insert these biocompatible titanium roots into the jawbone. Once they're in place, they will bond with the bone tissue through a process known as osseointegration. This helps secure them like actual roots, so you can eat your favorite foods again and your new teeth can last for decades to come, possibly even a lifetime! But what about the part people see when you smile?
Creating Your New Teeth
Once we insert the post and the placement area heals, we will attach abutments to the post that extend above the gum line. Our team can then attach a crow for an individual one, or use several to secure a bridge or denture. The crown and prosthetic will be custom-made to ensure a lifelike appearance and stability, so you can smile with confidence and also enjoy prosthetics that not only look like natural teeth, but function like them too.
If you have any questions about treating missing teeth, then contact our team today. We would love to see you soon, before the holiday season makes your schedule too hectic!
Do You Have Questions About Implant Dentistry?
We don't want you to live with untreated tooth loss. To learn more about addressing minor or or severe cases of tooth loss, then schedule a consultation by calling Brighton Family Dental Group in Brighton, MA, today at (617) 562-5210. We proudly welcome patients from Brookline, Newton, and all surrounding communities.