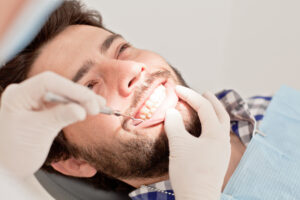 When you visit our office for your dental exam, we can assess the state of your oral health, and start you on a path to a bright and healthy smile. Which is why routine exams every six months benefits people of all ages, kids and adults alike. In today's blog, your Brighton, MA, dentist talks about the dental exam visit and what to expect.
Why We Need Dental Exams
The serious oral health concerns that could threaten your smile's stability don't form overnight. Tooth decay and periodontal issues take months to develop, which is why checking in with us twice a year is such a good idea. Our team can monitor your smile with advanced digital imagery, which uses a fraction of the radiation and provides a diagnosis with better precision and accuracy. We can then discover issues in the early stages, often before you experience uncomfortable symptoms. Our team then creates a treatment plan to keep your smile bright, beautiful, and whole.
What We Discover During a Checkup
Using digital x-rays and intraoral camera technology, our team will diagnose issues like tooth decay, dental infection, gingivitis, and periodontal disease. We also watch for TMJ disorder and bruxism (teeth grinding), and can screen for oral cancer too. For kids, we make sure baby teeth erupt and fall out as they should, and that permanent teeth have a clear path for eruption. In many cases, we can use options like fillings to address concerns in a single visit.
The Dental Cleaning
Over time, harmful plaque and tartar can accumulate on our teeth. Brushing and flossing alone cannot remove these layers, instead you need a professional dental cleaning. During your checkup visit, we will provide this and gently remove all plaque and tartar with an ultrasonic scaling device and a manual tool. Doing so takes minutes, and we polish the teeth for a brighter appearance and smoother surface that is difficult for plaque and tartar to cling to. The cleaning not only fights cavities and gum disease, but helps you enjoy fresher breath and brighter teeth too.
If you have any questions about how we safeguard smiles with a checkup and cleaning visit, then contact our team today to learn more. We want to help you and your family enjoy your best possible smile now and for years to come!
Talk To Your Brighton, MA Dentist About Your Next Exam Visit
Our team wants to help you and your family enjoy your best smiles. To schedule a consultation or learn more about our general and preventive appointments, give us a call at Brighton Family Dental Group in Brighton, MA, today at (617) 562-5210. We proudly welcome patients from Brighton, Watertown, Cambridge, Brookline, and all surrounding communities.