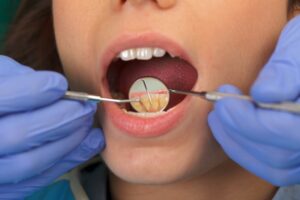 When you have serious buildup on your smile, this could mean bad breath, teeth stains, and even an increased risk of tooth decay and gum disease. Which is why people of all ages in our community need a dental cleaning. In today's blog, your Brighton, MA, dentists talk about removing this harmful buildup.
The Impact of Your Plaque and Tartar Buildup
Plaque forms when harmful oral bacteria consume the particles of sugar and starch left behind by the foods and drinks we consume. This process increases oral acidity and coats the teeth in a sticky layer of plaque, which hardens with time into plaque. While brushing and flossing can remove particles and limit the severity of plaque and tartar, only a professional cleaning can remove the layers completely. Without removal, these layers could lead to bad breath and teeth stains. They also weaken and erode enamel to cause cavities, and could even inflame gum tissues to cause gingivitis and gum disease.
How We Clean Teeth
The cleaning process is simple. Once you arrive, we will examine your smile and diagnose the current state of your smile. We then use an ultrasonic scaling device and a manual pick to gently and thoroughly break up and remove all plaque and tartar buildup. We then polish the teeth for a smoother feel and a brighter appearance. In one visit, this can limit the risk of cavities and periodontal concerns. We suggest this for people of all ages, and if you haven't had a visit for a cleaning lately, give us a call. There is still time to see us before the year ends and your 2022 dental insurance benefits expire, so make an appointment soon.
When to Consider a Scaling and Root Planing
What if you already have the warning signs of gingivitis or gum disease? If you have sore, red, or bleeding gums, then we can help with a deep cleaning. With this, we use the ultrasonic scaling device to remove buildup from both the teeth and the roots. We will administer a local anesthetic to keep you comfortable, and the process could take one visit or up to four, depending on the severity of your buildup. We then polish the teeth and may recommend traditional cleanings every three or four months to manage the disease and prevent the late stages linked to adult tooth loss.
Do You Have Questions About Preventive Dental Care?
We're ready to help you end the year with a bright and healthy smile. You can schedule a consultation to set up your next appointment, and more by calling Brighton Family Dental Group in Brighton, MA, today at (617) 562-5210. We proudly welcome patients from Brighton, Watertown, Cambridge, Brookline, and all surrounding communities.