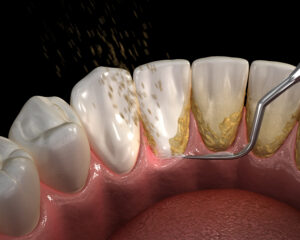 When you see our team every six months, we can help safeguard smiles with a dental cleaning. Even if you brush and floss, this is still necessary to keep teeth and gums strong. In today's blog, your Brighton, MA, dentists talk about how we can protect smiles with dental cleaning appointments.
The Onset of Plaque and Tartar Buildup
Over time, certain oral bacteria will break down the particles left on and between the teeth by the foods and drinks we consume, especially sugar and starch. When this happens, oral acidity levels rise and the teeth become coated in plaque and tartar buildup. Over time, this weakens outer enamel and inflames gum tissues, leading to cavities and gum disease, as well as bad breath and stained teeth. Not only do you need to brush and floss daily to control the plaque, you need a dental cleaning to remove the buildup completely.
Dental Cleanings
A traditional dental cleaning should happen every six months, in which we remove all plaque and tartar build up from the teeth using an ultrasonic scaling device and a manual pick. The process only takes a short amount of time to complete, and we finish the procedure by thoroughly polishing the teeth to provide a brighter appearance and a smoother tooth surface. The procedure helps lower the risk of cavities and infections, as well as gingivitis and gum disease. Since plaque makes gains more apparent, this helps teeth look brighter. The process of bacteria breaking down food particles creates bad breath, so removing the buildup means more freshness.
Scaling and Root Planing
However, if you already have the warning signs of gingivitis or the early stages of gum disease, then you may need a procedure known as a scaling and root planing. This involves using the ultrasonic scaling device and a manual tool to remove buildup from both the teeth and the roots as well. To keep you comfortably we can administer a local anesthetic. Again, we will polish the teeth for a brighter appearance. To help control periodontal issues, our team will recommend a traditional dental cleaning every three to four months. If you have any questions about how we keep teeth bright and healthy, and safeguard the gums from inflammation and disease, then contact our team today to learn more. We're ready to help you and your family enjoy better oral health.
Ready for Your Next Preventive Appointment?
Our team wants to help safeguard smiles with a routine preventive visit. You can schedule a consultation to arrange your next visit, and more by calling Brighton Family Dental Group in Brighton, MA, today at (617) 562-5210. We proudly welcome patients from Brighton, Watertown, Cambridge, Brookline, and all surrounding communities.