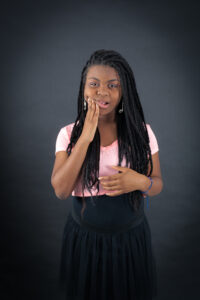 When you notice sensitivity in your teeth while eating or speaking, or a toothache that doesn't pass with time, then you need to seek treatment. Otherwise, this pain could mean worsening tooth decay or even the onset of an infected tooth. In today's blog, your Brighton, MA, dentists talk about toothaches.
The Causes of Painful Aches
For some, a temporary toothache is possible due to factors like sinus infections, allergies, or even changes in elevation. A particularly cold winter wind could also lead to aches. But these are short lived and pass after a few hours. If you have persistent pain that lasts for more than a day, then the cause may be related to tooth decay. When a cavity forms, it will grow and spread throughout the tooth, eventually leading to painful infections and the risk of a lost tooth. As it grows, discomfort does as well. Which is why you need to seek treatment to avoid major complications!
Diagnosis and Treatment
A diagnosis will begin with our team taking a close look at the tooth with digital x-rays and intraoral camera technology, so we can assess the position and severity of the day in your tooth. From there, we can plan treatment with precision and accuracy. We want to ensure you're comfortable, so we will administer a local anesthetic to the tooth to numb it. If you have anxiety, we could also discuss sedation. Once you're comfortable, we will remove all decay from the tooth and then clean it. Next, we apply the filling material.
Instead of metal, we use a metal-free option that blends glass-like and acrylic materials to provide a lifelike appearance. We color match it to blend with your tooth seamlessly. Once we're done, we will apply the material in several layers and then sculpt the tooth as the composite resin cures beneath a special light. We then polish it for a brighter appearance and a smoother feel. The entire process only takes one visit to complete, and leaves you with a healthy and comfortable smile, and lifelike results.
Prevention
To help avoid cavities in the future, be sure you brush and floss daily to remove food and drink particles and control plaque buildup. You can also avoid too many sweets and foods high in starch to prevent buildup and weakened enamel. Make time to see us for a checkup and cleaning too!
Do You Have Questions About Protecting Your Smile?
Our team wants to help address the causes of persistent discomfort. You can schedule a consultation to set up your next appointment, and more by calling Brighton Family Dental Group in Brighton, MA, today at (617) 562-5210. We proudly welcome patients from Brighton, Watertown, Cambridge, Brookline, and all surrounding communities.