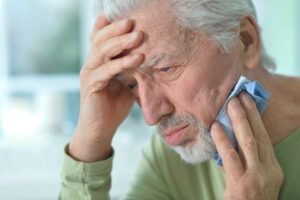 When you have a toothache, this painful development could mean you have a cavity or an infection that needs attention.  Ignoring this could mean worsening pain, and could leave your smile vulnerable to tooth loss. In today's blog, your Brighton, MA, dentists talk about putting a stop to your aching tooth!
The Causes of a Toothache
Some toothaches have little to do with our oral health. Short lived sensitivity and aches could develop due to sinus infections or allergy issues, or even changes in elevation or a cold winter wind. But! These aches will pass after a few minutes or hours. When you have sensitive teeth or toothaches that continue to hurt after a day or more, this could mean your smile has a cavity, or even the early stages of a dental infection. These oral health issues cause discomfort, but could also threaten the stability of your tooth with time. Cavities occur when poor oral hygiene habits encourage the growth of plaque buildup, which then weakens and erodes the outer enamel, leaving teeth exposed to harmful bacteria. This not only causes pain, but after enough time could cause an infection or abscess.
Treatment Options
We start with an exam and diagnosis. We need to know what is causing your discomfort, and how severe it is. We will use digital x-trays and intraoral camera images to take these images, and understand the factors behind your discomfort. We then choose the most appropriate treatment option. For cavities, we can place a composite resin filling in only one visit, which can be shaded to blend with your smile and offers years of restoration. For more severe cases, we could create and place a dental crown, again designed to match your smile. If your tooth has developed an infection, we could use root canal therapy to remove infected tissues and restore health and discomfort to your smile.
Preventing Discomfort
Now is a great time to take steps to avoid cavities and infection, keeping your smile comfortable. You should always brush your teeth twice a day for two minutes, and always use a fluoride toothpaste when you do. Flossing every evening is extremely helpful as well, and you should cut back on the foods high in sugar and starch, which feed harmful oral bacteria. Make time to visit our team for a checkup and cleaning every six months too! If you have any questions, then contact our team today to learn more.
Schedule a Visit Soon!
We would love to help your smile stay healthy and comfortable for years to come. You can schedule a consultation for oral surgery and more by calling Brighton Family Dental Group in Brighton, MA, today at (617) 562-5210. We proudly welcome patients from Brighton, Watertown, and all surrounding communities.