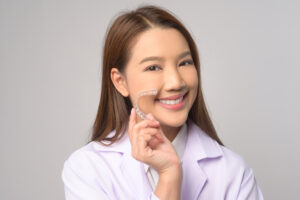 Our team is ready to help you enjoy straighter smiles by correcting your misalignment. Instead of relying solely on braces to do so, our team can use a series of Invisalign® aligners. In today's blog, your Brighton, MA, dentists talk about how you start the process, and what benefits Invisalign® will offer!
The Impact of Poor Alignment
If you have misalignment, which includes crooked, crowded, or overlapping teeth, this could alter the appearance of your smile and leave you feeling self-conscious. However, the impacts of misalignment are not just limited to your smile's appearance. Uneven teeth are difficult to thoroughly brush and floss, and particles from our foods and drinks can remain caught between teeth, a major factor in the onset of tooth decay and gum disease. Malocclusion also upsets bite balance and strains the jaw joints, increasing the risk of TMJ disorder and bruxism. Correcting them means a stronger and healthier smile, in addition to a more attractive one.
Starting the Process
To get started, our team will schedule a checkup to thoroughly examine your smile, assessing the cause and extent of your misalignment. From there, we can create a treatment plan to correct your smile. If we find you're a good candidate for Invisalign®, then our team will take detailed digital images from multiple angles, combining them to craft a 3D model of your smile. In a lab setting, experts will use them to design and craft your custom aligners. Made from a BPA-free plastic, these will be nearly invisible when worn. You can then start the treatment process!
Wearing Your Aligners
Treatment means that you will wear a set for about 20 to 22 hours a day, depending on your dentist's recommendations. Each set is worn for about two weeks, at which point you move on to the next in the series, continuing the process for about a year to 18 months on average. The next time will depend on the severity of your misalignment and whether you wear the aligners as prescribed.
Along with being nearly invisible, they can be removed before you eat! This means no need to alter your diet or avoid certain foods. This also means brushing and flossing is much easier too, and that you can take them out for special occasions. If you have any questions about our cosmetic treatment options, then contact our team today to learn more.
Do You Need Cosmetic Orthodontics?
Our team wants you to be able to smile with confidence again. You can schedule a consultation to set up your next appointment, and more by calling Brighton Family Dental Group in Brighton, MA, today at (617) 562-5210. We proudly welcome patients from Brighton, Watertown, Cambridge, Brookline, and all surrounding communities.