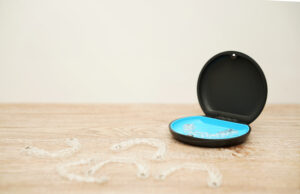 When you have crooked, crowded, and overlapping teeth, this misalignment could not only alter your smile's appearance, but lead to poor oral health. To help correct uneven smiles without relying on metal braces, our team could offer Invisalign®. In today's blog, your Brighton, MA, dentists discuss the benefits of Invisalign®.
The Benefits of Correcting Misalignment
First, let's talk about why you should consider orthodontic treatment for your uneven smile. A straighter smile can be a source of confidence, and help you feel better about yourself. But more than that, correcting misalignment helps function and oral health. Misalignment is linked to a greater risk of tooth decay and gum disease, as brushing and flossing thoroughly can be difficult. In addition, malocclusion can strain the jaw joints and lead to issues like TMJ disorder and bruxism (teeth grinding), which cause painful symptoms and may even damage teeth. By addressing this now, you can help improve your overall oral health and enjoy stunning results!
Crafting Clear Aligners
The treatment process doesn't rely on metal brackets or wires at all. Instead, we shift the teeth into optional positions with a series of clear plastic aligners, each one custom-made and fitted for your specific smile. To create them, we will take a series of images of your smile from multiple angles using digital scanning technology. We gather the images quickly and comfortably, and combine them to make a 3D computer model. The model enables us to design and craft your series of aligners. From there, you start treatment! This means wearing a set of them for about two weeks, for 20 to 22 hours a day. Afterward, you will start wearing the next in the series and continue this process until you obtain the smile you've dreamed of.
The Benefits of Invisalign®
First, the aligners will be nearly invisible when worn, so this helps teens and adults feel less self-conscious during treatment. They also fit comfortably and help you avoid gum and cheek irritation. The total treatment time tends to be shorter than with braces with some seeing optimal results after only a year of use. You also need fewer office visits too.
They can be removeable as well! You take them out before you eat or before special events or brushing and flossing. If you have any questions about how we use Invisalign® to correct uneven smiles, then contact our team today to learn more.
Do You Have Questions About Orthodontic Treatment?
Our team wants to offer you a way to straighten smiles without metal braces. You can schedule a consultation to talk about correcting uneven smiles, and more by calling Brighton Family Dental Group in Brighton, MA, today at (617) 562-5210. We proudly welcome patients from Cambridge, Brookline, Newton, and all surrounding communities.