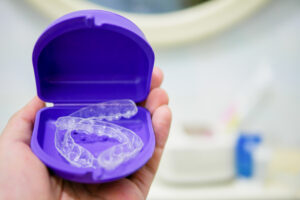 When you have uneven teeth, you could feel embarrassed about your smile's appearance and your oral health could suffer as well. But to correct misalignment, our team could provide a cosmetic solution. In today's blog, your Brighton, MA, dentists talk about the Invisalign® system.
Is it Right for You?
If you have misalignment, then contact our team to schedule an exam and consultation. This will be an opportunity for us to look at your dental history, and carefully examine your smile with digital imaging technology, including digital x-rays. We then identify the position of your teeth and the factors behind your misalignment. For many cases, we can use Invisalign® aligners. However, if you have severe cases, we may recommend braces to adjust the position of the teeth. By correcting your uneven teeth, you lower your risk of cavities and gum disease, and also the chances of TMJ disorder and bruxism (chronic teeth grinding) forming as well. You smile with confidence, and enjoy better oral health too!
The Invisalign® System
Let's talk a little about the Invisalign® system. We will gather detailed digital images of your smile, which we use in a lab setting to design and craft the aligners. Each set is made from a BPA-free plastic material, one that is also clear and barely noticeable. They will fit comfortably and help prevent gum and cheek rotation. For treatment, you wear a set for 20 to 22 hours on average each day. After about two weeks of this, you will start wearing the next set in the series. This process is repeated until you obtain optimal results, which for adults could be in as little as one year!
Removing Aligners
Unlike braces, these will not be affixed to your teeth. So, before you eat, you can simply take them out. Which means no need to adjust your diet or avoid sticky or chewy foods, or fun snacks like popcorn. You can also have a much easier time cleaning your teeth, as you don't have to work around brackets and wire when you brush and floss. Provided you wear them for the amount of time the dentist suggests, you can also take them out for special occasions. If you have any questions about how we treat misalignment with the Invisalign® system, or if you would like to schedule your initial consultation, then contact our team today to learn more.
Do You Have Questions About Cosmetic Orthodontics?
We would love to help you obtain straighter smiles with cosmetic braces, so you can smile with confidence! You can schedule a consultation for clear aligners and more by calling Brighton Family Dental Group in Brighton, MA, today at (617) 562-5210. We proudly welcome patients from Brighton, Watertown, and all surrounding communities.