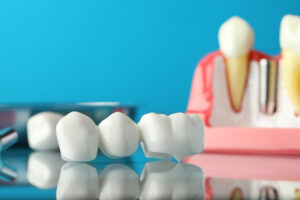 Should a tooth become lost, this could mean serious trouble for your smile. Which is why we want to bridge the gap in your smile with a lifelike and durable dental prosthetic. In today's blog, your Brighton, MA, dentists talk about dental bridges, and the benefits they offer our patients with tooth loss.
Bridging the Gap
A dental bridge is a prosthetic made from ceramic, a durable material that provides a solid chewing surface and can be color matched to blend with your smile. The prosthetic will contain new teeth, known as pontics, with dental crowns attached to either end. To create them, we will numb the teeth on either side of the gap in your smile and gently remove structure from them. We then gather detailed digital images and create a 3D impression, one we use to design and craft the prosthetic. We then attach the crown portions of the bridge to these abutment teeth, securing your prosthetic firmly in place.
The Benefits for Your Smile
First, they look natural and allow you to enjoy optimal health and function again. You will be able to eat your favorite food and smile with confidence. By filling the gap in your smile, these also limit the risks of misalignment, and prevent jaw joint strain and complications like TMJ disorder and bruxism. You can also smile with confidence again! If we use dental implants to support them, this can also prevent the loss of mass and density in the jaw, so your prosthetic can last for decades to come!
Traditional and Implant Supported
A traditional one is held in place with crowns on abutment teeth, and lasts about 10 to 15 years. Replacement is necessary as the jaw ridge will gradually change shape. For a longer-lasting option, we could insert one to two dental implants into the jaw and attach the bridge to them. This prevents the loss of mass and density in the jaw, so your prosthetic can last for decades or possibly a lifetime in some cases. The option we choose will depend on the health and durability of your jawbone, underlying oral health issues, and your budget and overall oral health.
If you have missing teeth, then contract our team today to discuss possible replacement options. You can smile with confidence once again, and we can also discuss full and partial dentures for more severe cases of missing teeth.
Ready to Restore Your Smile?
Our team wants to help address minor tooth loss. You can schedule a consultation to arrange your next visit, and more by calling Brighton Family Dental Group in Brighton, MA, today at (617) 562-5210. We proudly welcome patients from Brighton, Watertown, Cambridge, Brookline, and all surrounding communities.