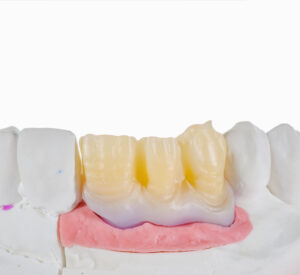 When you have lost a tooth, or up to three in a row, then a custom-made dental bridge could be the right prosthetic for you! We can create one that looks natural, and provides years of quality replacement. In today's blog, your Brighton, MA, dentists talk about treating minor tooth loss with a dental bridge.
Losing a Tooth Means Trouble
Even one lost tooth could mean trouble for your smile! For example, the surrounding teeth may actually drift from position due to the gap in your smile, resulting in dental misalignment and with it, an increased risk of cavities and gum disease. For other people, the pressure on your bite balance and jaw joints from your lost teeth could make the onset of painful disorders like TMD and bruxism (teeth grinding) more likely to occur. You could also simply feel uncomfortable with your smile, or develop complications with how you eat or speak. Which is why addressing the gap is so important!
Creating a Bridge
A dental bridge is designed to address these minor gaps and improve the appearance and function of your smile. To create one, we will first need to prepare the abutment teeth, the ones on either side of the gasp in your smile. This means removing structure from them and taking detailed digital images and impressions, which we use to design and fabricate the completed prosthetic. The bridge will contain new teeth with dental crowns attached to each end. The prosthetic is made from materials like ceramic, which we shade to blend with your smile, and which can handle your daily bite forces and pressure. The crowns are then attached to abutment teeth to secure your new teeth firmly in place!
Implant Options
We could also secure them with dental implants. This means that instead of removing structure from teeth, we insert a biocompatible titanium post into the jawbone. This acts as a new tooth and stimulates the growth of jawbone tissue. Instead of your bridge lasting 10 to 15 years, it could last for decades. We then attach the crown portion to the implants. If you have any questions about treating or avoiding tooth loss, or about which prosthetic option is right for your smile, then contact our team today to learn more. We want to make sure you can always smile with confidence, and enjoy your meals without complication!
Do You Have Questions About Treating Missing Teeth?
Our team wants to help address your lost teeth with a lifelike replacement option. You can schedule a consultation to talk about our custom dental prosthetics, and more by calling Brighton Family Dental Group in Brighton, MA, today at (617) 562-5210. We proudly welcome patients from Brookline, Newton, and all surrounding communities.