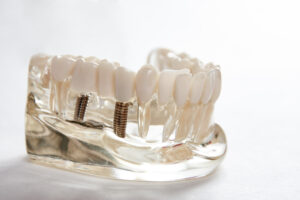 When you have a single missing tooth, then a dental bridge could be your path toward a full smile again. In today's blog, your Brighton, MA, dentists talk about how we design and craft a custom-made dental bridge, and when this option is right for your smile. We could even discuss support with implant dentistry!
The Impact of a Missing Tooth
How does a missing tooth cause so much trouble for your smile? Well, the gap in your smile could limit your ability to speak clearly or eat your favorite foods too. Teeth could begin to shift, the resulting misalignment changing smile beauty and also leading to tooth decay and even gum disease. Missing teeth also cause bite imbalance and strained jaw joints, factors behind TMJ disorder and bruxism (teeth grinding). Losing even one tooth could lead to serious complications for the health, function, and beauty of your smile! Fortunately, we have dental bridges.
Crafting a Dental Prosthetic
To begin, we will need to numb the teeth on either side of the gap so we can gently remove structure from them. These are known as the abutment teeth. We then take detailed digital images of these teeth, which we use in a lab setting to plan and craft your dental bridge. The prosthetic will consist of pontics (new teeth) with crowns attached to each end. We craft them from ceramic, a material that is very durable but also able to be color-matched, blending with your smile seamlessly. This can be used to address between one and the teeth in a row.
Securing Your Replacement Teeth
We will attach the crown portions to the abutment teeth, securing your pontics firmly in place. The prosthetic will last about 10 to 15 years on average, and will provide a durable and dependable chewing surface. These teeth will need to be brushed and flossed around just as natural teeth do. You should also clean the space between the top of the gums and the bottom of the bridge, where food particles could remain trapped. These simple actions not only keep your new prosthetic bright and strong, but also helps safeguard the rest of your smile from tooth loss.
If you have any questions about how we address missing teeth with a lifelike dental bridge, or how you can help prevent tooth loss, then contact our team today to learn more.
Ready for a Custom-Made Dental Prosthetic?
Our team is ready to address minor tooth loss with a custom prosthetic, but we also have dental implants and full and partial dentures. To learn more about replacing a missing tooth, then schedule a consultation by calling Brighton Family Dental Group in Brighton, MA, today at (617) 562-5210. We proudly welcome patients from Brighton, Watertown, and all surrounding communities.