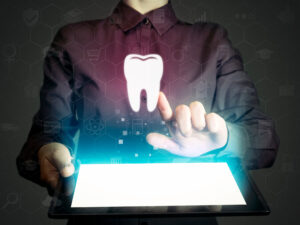 Our team wants to help improve oral health for people of all ages, and to ensure comfortable treatment with precision, we can use advanced technology. In today's blog, your Brighton, MA, dentists want to discuss the various digital systems we use to plan and craft various treatments for our patients.
Digital X-Rays and Intraoral Camera
When we look at your smile during a checkup, we want to uncover possible areas of concern in the earliest possible stages, so we can treat them before you develop discomfort or your smile is left vulnerable to infections or gum disease. With a digital x-ray, we can see what's beneath the gums, including the roots and oral structures, as well as decay or infection within a tooth. The digital option doesn't need bitewings at all, and uses 90% less radiation. The images are available chairside, no need for a lengthy development time, and we can walk you through the diagnostic process. This can also be used to plan treatments, such as wisdom tooth extraction or dental implant placement.
With intraoral cameras, we take very close and detailed looks at the surfaces of the teeth and gums, so we can better diagnose issues like tooth decay, gingivitis, gum disease, and even TMJ disorder and bruxism (teeth grinding). We can also use these to aid in the screenings for oral cancer we recommend at least once a year.
iTero® Scanning
To create everything from custom Invisalign® aligners to dental crowns, we can use an advanced imaging system. With iTero®, our team will use a tiny digital camera set in the end of a thin wand to take multiple pictures from several angles of the smile. We gather these quickly and comfortably. We then combine them to create a 3D model, one that enables us to design restorations and oral appliances with precision and accuracy, all without ever needing to take physical dental impressions at all.
Guiding Dental Implants
Technology can also help with tooth replacement as well! We can use digital imaging to assess the strength of the jawbone and the presence of factors that could complicate implant placement. We then choose the best angle and position to insert the biocompatible titanium roots into, allowing them to bond with the jawbone and support a new tooth or prosthetic for decades to come with proper care and attention.
If you have any questions about how we use advanced technologies for each stage of your treatment, then contact our team today to learn more.
Do You Have Questions About Our Advanced Technologies?
We would like to see how we employ digital technology for smiles of all ages. You can schedule a consultation to talk about how we strengthen smiles, and more by calling Brighton Family Dental Group in Brighton, MA, today at (617) 562-5210. We proudly welcome patients from Brighton, Watertown, and all surrounding communities.