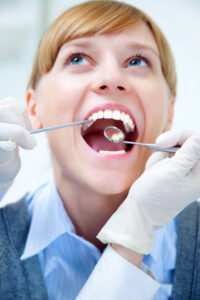 Along with brushing and flossing your teeth each day, you also need to visit the dentist every six months for a checkup and cleaning. These visits will help protect your smile from issues like tooth decay and gum disease. In today's blog, your Brighton, MA, dentists talk about what to expect from these visits.
When You Need One
How often should you have a checkup? Well, for every one ages two and older, the American Dental Association recommends a visit at least once every six months. The only exception is when a person has gum disease, and a visit every three to four months could be necessary to manage the disease and prevent tooth loss. Most oral health issues, such as cavities and gingivitis, will take several months to form. Which means a twice-yearly visit allows us to diagnose these issues in the earliest stages, and treat them before they impact your smile's comfort and stability.
What Happens During a Checkup?
When you sit down for a checkup, we will take detailed images of your teeth, gums, roots, and oral structures with a digital x-ray and an intraoral camera. These images are clear, detailed, and available instantly chairside. They also use a fraction of the radiation that traditional x-rays require. The images let us walk you through the diagnostic process too, so you gain a better understanding of your oral health and what treatments you may need. A plan is then crafted for your smile to correct or manage the issues we discover, protecting your smile from discomfort and even tooth loss.
Dental Cleanings
After we examine your smile and make a diagnosis, we will clean your teeth. A dental cleaning is an excellent way to fight not only bad breath and teeth stains, but tooth decay and even gum disease. The procedure involves removing harmful layers of plaque buildup and tartar from the surfaces of the teeth with an ultrasonic scaling device and manual tool. We then polish the teeth thoroughly, offering a brighter appearance. After your visit, you should make sure you and your family brush and floss each day to control buildup and protect your smile. You can also limit plaque by avoiding food and drinks high in sugar and starch, which leave behind particles that feed harmful bacteria. Try to avoid tobacco products too!
If you have any questions, then please give us a call today.
Ready for Your Next Visit?
We would like to help you enjoy a strong and healthy smile with regular preventive visits. To learn more about safeguarding smiles with an exam, then schedule a consultation by calling Brighton Family Dental Group in Brighton, MA, today at (617) 562-5210. We proudly welcome patients from Brookline, Newton, and all surrounding communities.