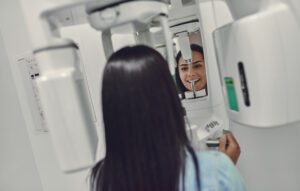 We offer a comprehensive array of treatment options to help smiles of all ages in our community. Along with a number of treatment options, we also offer advanced technology, which helps us make a diagnosis with accuracy, and also plan your treatment with greater precision. In today's blog, your Brighton, MA, dentists talk about the advanced technology we use.
Digital X-Rays
With digital x-rays, you no longer need to bite down on an uncomfortable set of plastic bitewings. Instead, we can gather the images quickly and comfortably, and display them chairside right away. No need to spend a lengthy amount of time waiting for the images to develop in harsh chemicals either. The images will also be in greater detail, so we can make a diagnosis with improved accuracy and precision. This allows us to see your roots, jaw, and oral structures. We could diagnose infections, wisdom tooth impaction, and more.
Intraoral Cameras
We also want to be able to assess areas of concern that form on the surfaces of your teeth, gums, and oral structures. With intraoral cameras, we can take a series of detailed images quickly and conveniently, so we can identify issues like tooth decay, gingivitis, gum disease, TMJ disorder, and bruxism (teeth grinding). We also use this as part of our oral cancer screenings too!
iTero Scanners
Advanced technology has also replaced the need for physical impressions. At one point, to design restorations or appliances, our team would need to have you bite down on a metal mold filled with a sticky material, one that did not taste good. You would hold this bite for several minutes, and would often need to redo the process to obtain a good impression. Now, we use a digital alternative! With iTero, a tiny camera at the end of a thin wand gathers images of your smile from multiple angles. We then combine them to create a 3D computer model, one that allows us to design crowns, dental prosthetics, and Invisalign aligners with precision. 
If you have any questions about how we treat common oral health issues and diagnose smiles with advanced technology, then contact our team today to learn more. Now is a great time to schedule a checkup and cleaning visit, and start your new year with your best smile.
Do You Have Questions About Our Technology?
We take steps to ensure custom and personalized treatment options and diagnoses, and that includes incorporating new systems and treatments! To learn more about our advanced technologies or about any of our other treatment options, then schedule a consultation by calling Brighton Family Dental Group in Brighton, MA, today at (617) 562-5210. We proudly welcome patients from Brookline, Newton, and all surrounding communities.