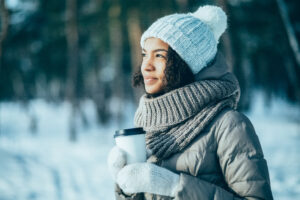 While it is always important to keep your mouth as healthy as possible, wintertime can present unique challenges to this goal. As we move towards the end of 2021 and the temperatures begin to drop, you need to stay extra vigilant in your practicing of good oral health. In today's blog, your Brighton, MA, dentists talk about the ways you can help keep your mouth healthy in the winter months.
Pay Attention To Sensitive Teeth
Enjoying a hot beverage is one of the best parts of the colder months. Whether you opt for tea or hot cocoa, you should pay attention to any increased sensitivity or pain while sipping on hotter drinks. Feeling pain in your mouth when drinking is often an indicator of worn-down enamel. If this is the case, look out for specialized toothpaste that is made to help those with sensitive teeth. You should also make sure it contains fluoride to help strengthen your enamel. You do not want to ignore increased sensitivity, as it can worsen and lead to needing a dental crown or other restorative procedures.
Drink Enough Water
You should always strive to drink plenty of water, but this is even more important as temperatures drop. Men should strive for 3.7 liters and women should aim for 2.7. Being well-hydrated is essential to maintaining your overall health, and it is also important for your mouth. Dry mouth — or Xerostomia — is a symptom of lacking sufficient amounts of saliva. It can be caused by environmental factors in addition to certain medications and medical treatments. It is amplified in the winter months when the air is quite a bit dryer. As it gets colder, make sure you are drinking plenty of water to ensure you are staying healthy.
Make Sure You Stay Warm
Though it may be harder when temperatures plummet, you want to do your best to stay sufficiently warm this winter. Shivering is one of our body's natural reactions to being cold. Part of shivering entails clenching your teeth and jaw, which can cause damage to your enamel and the structure of your teeth. If it wears down enough, you could end up needing cosmetic dentistry to fix any damage. Wear plenty of layers and take advantage of fireplaces, if that is an option.
Contact Us To Learn More About Staying Healthy
You deserve to enjoy the winter months as much as possible, so please do your best to stay healthy. If you want more tips about keeping your mouth in great shape — or if you have any advice to share with us — please reach out to us today and schedule a consultation by calling Brighton Family Dental Group in Brighton, MA, today at (617) 562-5210. We proudly welcome patients from Brookline, Newton, and all surrounding communities.