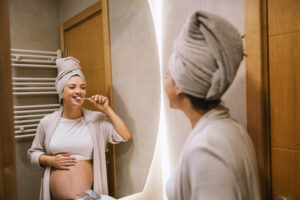 If you are expecting, let us be the first to congratulate you on your new addition to the family. This is an exciting time, but unfortunately, it is also a period where you have to handle multiple additional health concerns. As if you don't have enough to deal with right now, you need to keep an extra close eye on your dentistry, since you may experience problems due to hormonal changes during pregnancy.
With our team of preventive dental experts in Brighton, MA, you can take positive steps to keep yourself safe during this important part of your life. While you are pregnant, you are at a higher risk of developing gingivitis, which is the initial stage of gum infection. Before this condition progresses to periodontal disease, take some time to meet with your oral health provider to learn some helpful tools in keeping your smile at a high level while you wait for your baby to arrive. If you have started to notice redness along your gumline or bleeding while brushing, it is time to schedule an appointment to talk!
Pregnancy Increases Your Risk Of Developing Gingivitis
While you focus on preparing for the birth of your new child, something might be changing within your smile. During pregnancy, you become at risk of oral health concerns, and chief among these is gingivitis. This is the first phase of gum infection, and if you ignore it, you could wind up with periodontal disease, so take this concern seriously and stick to the treatment plan given to you by your dentist.
The causes of pregnancy gingivitis are not entirely well known, but your hormonal changes play a significant role in your inability to stay safe. In order to prevent damage from gingivitis, be sure to follow through with your appointments for routine examinations. These are your opportunity to learn more about your smile, so use them to your advantage.
Take The Steps To Care For Your Gums While Pregnant
When you are pregnant, you need to pay attention to your periodontal health. This of course means that you need to be brushing and flossing as usual, and while this might feel like a struggle at this point, it is an important part of your oral health maintenance. If you have started to experience cravings for sugary foods, be sure to brush before you go to bed. Those midnight snacks can become dangerous if you leave remnants of food between your teeth!
Schedule An Appointment With Brighton Family Dental
If you are pregnant, you need to take steps to maintain your oral health. To learn more about pregnancy gingivitis or to schedule an appointment for a checkup, give us a call at Brighton Family Dental Group in Brighton, MA, today at (617) 562-5210.