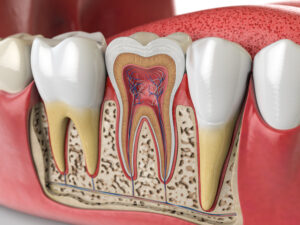 When a tooth becomes infected, this could mean serious discomfort and without treatment, the loss of your tooth! To treat the infection and preserve the tooth, you need an endodontic treatment. Which is why your Brighton, MA, dentist offers root canal therapy to preserve and protect your smile!
Tooth Loss and Dental Infection
A tooth becomes infected when harmful oral bacteria reach the inner pulp, the nerve center at the middle of each tooth. The infection could be due to untreated cavities or even injuries or teeth grinding, which exposes sensitive inner tissues to cause cavities or the onset of an infected tooth. Warning signs could include toothaches, tooth sensitivity, pain when you bite down, swelling near the tooth, headaches and jaw pain, or even a discharge from the tooth itself. When you experience these symptoms, let us know right away. Our team will conduct an examination to see if you need a root canal procedure.
Keeping Teeth Comfortable
Our team will use digital x-rays to obtain detailed images of the interior of the tooth, so we can assess the position and extent of your infection, so we can plan treatment in detail. This system uses 90% less radiation and doesn't require the use of bitewings. Once we plan the procedure, we will take steps to make sure the procedure is comfortable. Our team will administer a local numbing agent to the area being treated. If you have anxiety, we can also administer a sedation treatment to help you enter a calm and relaxed state, with little to no memory of the procedure while still remaining conscious and able to respond to the dentist.
Root Canal Therapy
Once you're comfortable, our team will open the tooth to reach and remove the tissues from within. We then clean the interior of the tooth and the roto canals, before we add a restorative gutta percha material. The last step of the root canal procedure is to cap the tooth with a custom crown, ensuring lifelike results and protecting the tooth from further decay or reinfection. Many people find the procedure comparable to receiving a simple dental filling!
If you have pain in your tooth that doesn't subside after a day, don't risk the loss of your tooth or the spread of infection. Instead, contact our team for a diagnosis and to find the right treatment option. If you have any questions about root canal therapy, or about avoiding issues like tooth decay and infection, then contact our team today.
Speak With Your Brighton, MA Dentist About Endodontic Treatment
Talk to the Brighton Family Dental Group in Brighton, MA, today at (617) 562-5210 about treating your infected or abscessed tooth. We want to make sure you enjoy a full smile for years to come!