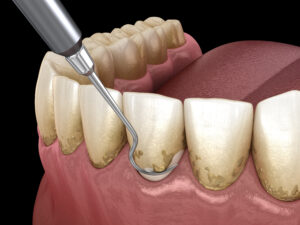 When you experience the warning signs of poor gum health, such as redness, soreness, or bleeding, then you need care to prevent the issue from threatening smile stability. To help manage periodontal health, our team could offer a deep cleaning. In today's blog, your Brighton, MA, dentist talks about the benefits of scaling and root planing.
The Causes and Dangers of Gum Disease
Periodontal disease impacts half of adults over the age of 30, according to studies from the Centers for Disease Control. The issue occurs when gingivitis forms and isn't treated. Eventually the inflammation grows so severe that gums pull away from the teeth and form deep pockets. When bacteria enter these pockets, the disease develops and there is no cure, instead care is necessary to manage it and prevent the later stages linked to adult tooth loss. Inflammation could be due to improved brushing and flossing, lack of dental cleanings, a diet high in sugar and starch, a family history of the issue, tobacco use, or inflammatory illness. When you develop sore, red gums that bleed easily, or tissues that recede, then you need treatment.
The Deep Cleaning Process
Often, we can employ a deep cleaning to make the disease manageable with traditional cleanings every three to four months, so you can avoid the onset of periodontitis, the advanced stage linked to adult tooth loss. The process involves using an ultrasonic scaling device and a manual tool to remove plaque and tartar deposits gently and thoroughly from the teeth and from the roots and beneath the gum line too. The process is more involved, so we will numb your smile beforehand. This could take one visit or up to four, depending on the severity of your buildup. We then polish the teeth to make it more difficult for plaque and tartar to adhere to the surfaces in between your six month appointments.
Managing Your Gum Health
Moving forward, you should take time to brush your teeth daily for two minutes in the morning and at night, and to floss thoroughly every evening. These actions remove stray food and drink particles that could feed harmful bacteria, limiting the severity of plaque before you next appointment. Try to avoid tobacco use, and make time to see us for your routine cleaning visits. These actions help you avoid tooth loss and gum recession, so your smile remains healthy and beautiful for years to come. To schedule your next appointment, just give us a call today.
Speak With Your Brighton, MA Dentist About Treating Periodontal Issues
Talk to the Brighton Family Dental Group in Brighton, MA, today at (617) 562-5210 about treating your gum health. Our team wants you to maintain a whole and healthy smile for years to come!