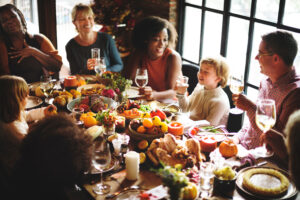 In just a few days, the Thanksgiving holiday will be here and many of our patients will be celebrating with a huge feast. However, the feast will likely contain plenty of sugar and starch, which leaves smiles more vulnerable to tooth decay. In today's blog, your Brighton, MA, dentists talk about how to safeguard your smile.
The Dangers of Starch and Sugar
Sugar and starch are two ingredients that will often cling to the teeth or become trapped between them. Harmful oral bacteria then break them down, a process that elevates oral acidity and coats the teeth in plaque and tartar, increasing the risk of everything from bad breath and teeth stains to tooth decay and periodontal disease. Many of our Thanksgiving favorites, like stuffing, mashed potatoes, biscuits, sweet potato casserole, cornbread, or muffins contain lots of starch, and sugar can be found in our favorite pies, cakes, and cookies.
Choosing Healthy Options
To help protect your smile and still enjoy your holiday favorites, you can make sure your plate is properly balanced. Be sure to add fresh fruits and vegetables to your plate. These contain a high water content and the rough ones, like apples, carrots, and broccoli, and even help scrub your teeth of particles when you consume them. Having a glass of water with your meal also helps rinse away potentially harmful particles. You should excuse yourself after your meal to floss as well, removing particles quickly.
You should also maintain good oral health habits during your holiday too! Regardless of the celebrations, make time to brush in the morning and at night for about two minutes each session, and use a fluoride toothpaste to help keep the enamel strong. You also need to floss every evening. These actions help protect your smile from cavities and limit the severity of plaque buildup.
Schedule a Checkup
You can still schedule a checkup and cleaning visit to use your remaining dental benefits and ensure good oral health before the stressful holiday season is here. We would love to examine your smile, treat any concerns we find, and also clean your teeth to remove all harmful plaque and tartar buildup at once. If you have any questions about how to protect your smile during the holiday season, then contact our team today to learn more. We want to help you smile with confidence!
Do You Have Questions About Keeping Smiles Strong?
We want to make sure you enjoy your holidays without leaving smiles at risk. You can schedule a consultation to set up your next appointment, and more by calling Brighton Family Dental Group in Brighton, MA, today at (617) 562-5210. We proudly welcome patients from Brighton, Watertown, Cambridge, Brookline, and all surrounding communities.