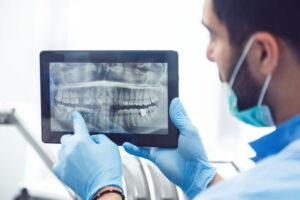 When we treat smiles in our practice, we want to offer quality care and a comfortable treatment experience. As part of this process, we employ a number of advanced digital technologies. In today's blog, your Brighton, MA, dentists talk about the technologies we use for the diagnostic portions and to create custom restorations and more!
Digital X-Rays and Chairside Monitors
First, we want to offer a diagnosis with precision and accuracy, so we can offer quality treatment tailored to your smile. To begin, we will take images of your smile with digital x-rays. These use 90% less radiation, and don't need to be developed in harsh chemicals. Instead, they're available instantly at our convenient chairside monitors, so we can walk you through the diagnostic process and limit your time in the chair. In addition, we can also gather multiple images of the surfaces of your teeth and gums, and then again display it on the monitor. These technologies enable our team to identify areas of concern in the earliest stages, often before you experience discomfort. This could be used to diagnose cavities, infections, gingivitis and gum disease, and to identify indicators of TMD or bruxism. We can plan periodontal treatments and also identify wisdom teeth that need removal. Our team can also plan the placement of dental implants!
iTero®
We also use advanced systems to design and create a number for oral appliances and restorations. With iTero®, we will take a series of images of your smile from multiple angles using a digital camera at the end of a thin wand. We then combine these images to create a 3D computer impression, one far more accurate than the physical ones created by biting down on a mold filled with gooey materials. We can use this system to create custom-made crowns, and to also design and fit your Invisalign® aligners. We can also use this as part of the dental implant process.
Getting Started
To get started, simply call our team to schedule a checkup and cleaning visit. After all, the end of the year will be here before you know it, so now is a great time to see us before the hectic holiday season begins, and before your dental benefits or health savings funds expire. Don't let these vanish without being used, talk to our team to use them and improve your smile before the end of 2022!
Do You Have Questions About Our Technology?
We want to help your family enjoy optimal oral health. You can schedule a consultation to set up your next appointment, and more by calling Brighton Family Dental Group in Brighton, MA, today at (617) 562-5210. We proudly welcome patients from Brighton, Watertown, Cambridge, Brookline, and all surrounding communities.