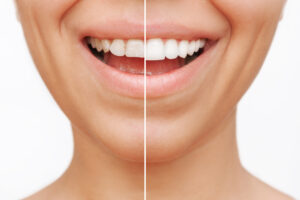 When you have more than one aesthetic issue with your teeth, you may assume several procedures could be necessary to makeover your smile. But with porcelain veneers, we can offer a total transformation in as little as two visits with one procedure. In today's blog, your Brighton, MA, dentists talk about our custom cosmetic restoration.
Our Custom Restorations
Porcelain veneers are a cosmetic restoration, one designed purely to improve the beauty of your teeth. Each one is custom-made for your smile, and consists of a thin shell of porcelain that covers the front and sides of the teeth. Once in place, we can use them to mask permanent teeth stains, the kind that could resist teeth whitening. Placement also closes unsightly gaps between teeth and could correct the appearance of minor misalignment as well. We've used them to lengthen worn down teeth, repair minor cracks or chips, and correct misshapen teeth. For a total smile makeover, we could combine them with teeth whitening or bonding.
Creating and Placing Them
Each one is custom-made, and that begins with an initial examination so we can assess the cause and extent of your cosmetic concerns. We then numb the teeth receiving them and gently remove outer structure from them. After taking away a thin layer of enamel, which makes room for the restoration, our team will take detailed digital images to create a 3D impression. This is then used in a dental lab to design and craft the finished product. When ready, we will check the fit and make any necessary adjustments before we attach the veneer to the front of the teeth with a powerful bonding agent. In two visits, we can transform your smile!
Keeping Your Smile Bright
To keep them bright and safeguard the teeth we've attached them too, you need to brush and floss your teeth daily and also cut back on sugary foods and drinks. These actions help fight plaque buildup and factors like decay, infection, or gum disease, so your teeth can stay bright and in place for years to come. You should also see our team for a routine checkup and cleaning every six months, so we can monitor your smile for signs of trouble, and also remove all harmful plaque and tartar.
If you have any questions about our approach to cosmetic dentistry and custom restorations, then contact our team today!
Do You Need a Cosmetic Visit?
We're ready to help you transform the appearance and beauty of your smile. You can schedule a consultation to set up your next appointment, and more by calling Brighton Family Dental Group in Brighton, MA, today at (617) 562-5210. We proudly welcome patients from Brighton, Watertown, Cambridge, Brookline, and all surrounding communities.