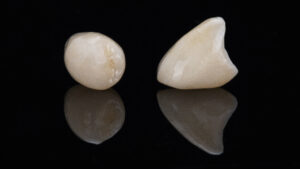 When a tooth is severely damaged, then repair is crucial for avoiding complications and preserving your smile's stability. To help, we could craft and place a custom-made dental crown. In today's blog, your Brighton, MA, dentists talk about how we design and craft custom crowns, and the actions necessary to keep them strong.
When a Tooth Needs Repair
We could prescribe a restoration to address a cracked, chipped, or broken tooth. Placement could also lengthen ones worn down by teeth grinding. We've used them top reshoe malformed teeth, mask cosmetic imperfections, and even close unsightly gaps between the teeth. Dental crowns also help address more severe cases of tooth decay, and can complete a root canal for an infected tooth. If you have missing teeth, we could use one or two to support a dental bridge, replacing one to three missing teeth in a row. One could also be used to restore a single tooth dental implant.
Creating and Placing Dental Crowns
To begin, we will examine your smile and plan the treatment process. Our team will then gently remove structure from the tooth after we numb it. Detailed digital images are taken of the prepared tooth, and we use these in a lab setting to design and craft the finished product. When possible, we use materials like ceramic, which not only endure daily bite forces, but can be shaded to blend with the tooth and offer a lifelike appearance too. The entire process usually takes about two visits, and can allow us to provide a lifelike solution to a variety of cosmetic and restorative issues, safeguard your overall oral health and prevent major complications that could otherwise develop.
Keeping Restorations Strong
You can also take steps to not only keep them strong and in place for years to come, but to safeguard the surrounding natural teeth at the same time. Be sure you brush when you wake up and then again before bed, for two minutes each time. We recommend a fluoride toothpaste too, as this helps prevent enamel erosion. You should floss every evening to remove what a toothbrush cannot. These actions limit the risk of cavities and gum issues that could threaten your smile. Try to cut back on sugary products too, and make time to see our team every six months for a checkup and cleaning. If you have any questions, then give our team a call.
Do You Need a Tooth Repaired?
We want to help safeguard your smile with a lifelike restoration. You can schedule a consultation to arrange your next visit, and more by calling Brighton Family Dental Group in Brighton, MA, today at (617) 562-5210. We proudly welcome patients from Brighton, Watertown, Cambridge, Brookline, and all surrounding communities.