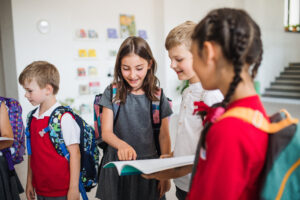 Whether you're going to be a student or a teacher, helping back to school means you have a lot of preparation, such as gathering supplies and getting new clothes. But we don't want you to forget about your smile! A back-to-school checkup and cleaning can help our patients in Brighton, MA, dentists start their first day with bright smiles.
Back to School Checkup
Once the school year begins, schedules for families become a lot more hectic. Between school, homework, and extracurricular activities, finding time to see the dentist can be tough, and kids could fall behind if they miss classes. But a visit now means our team can examine and clean the teeth, and also address any issues we discover, so teachers and stunned alike can start their first day with bright, healthy smiles.
Our Exams and Cleanings
During the exam portion, we will use digital x-rays and intraoral camera technology to make a diagnosis with accuracy and precisions, so we can identify areas of concern and address them with a personalized treatment plan. Often, treatments like fillings for cavities take only one visit to complete. We also look for signs of TMJ disorder, dental infection, bruxism (teeth grinding), gum disease, and we also screen for oral cancer. During the cleaning portion of the visit, we will employ an ultrasonic scaling device and a manual tool to break up and remove all plaque and tartar buildup. Doing so helps fight teeth stains and bad breath, while also lowering the risk of tooth decay and gum disease.
Preventive Treatments
We could also look at preventive treatments to help the younger members of your family. For example, with a fluoride treatment every checkup visit, we can help strengthen the outer enamel to lower the risk of tooth decay and dental infection. We could also discuss dental sealants, which are a thin plastic coating we add to the rear teeth. These are often the most difficult for kids to brush and floss thoroughly, and the sealants prevent food from becoming stuck on or between them, lowering the risk of tooth decay. They can stay in place for up to ten years and gradually wear away with time.
If you have any questions about preparing smiles of all ages for a new school year, then contact our team today to learn more.
Do You Have Questions About Family Dentistry?
Our team wants to make sure everyone in your family is ready for a new year. You can schedule a consultation to set up your family's next dental exam, and more by calling Brighton Family Dental Group in Brighton, MA, today at (617) 562-5210. We proudly welcome patients from Cambridge, Brookline, Newton, and all surrounding communities.