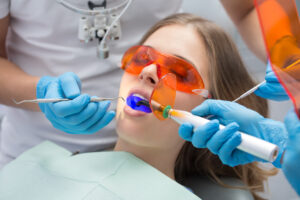 When a cavity forms, lack of treatment could mean infections, abscesses, and in some cases, the loss of the tooth! Which is why at the first sign of a toothache, we want to see you for a filling. In today's blog, your Brighton, MA, dentists talk about how we use fillings to treat teeth and protect the smile.
The Warning Signs of Tooth Decay
As we mentioned above, a toothache that persists for more than a day, or tooth sensitivity to hot or cold foods and drinks, could be a warning sign of a cavity. Tooth decay forms when harmful oral bacteria make contact with the dentin, the sensitive structure that makes up most of your tooth. Usually, the outer enamel protects the tooth, but poor oral hygiene could weaken it and erode it enough to expose the dentin. When you experience pain, this means the cavity has reached a more advanced stage, and needs treatment to prevent a dental infection or abscess from developing.
Placing a Dental Filling
When you come to us with an aching tooth, we will examine it with digital technology to identify the position and state of the cavity. In most cases, we will treat it in one visit with a dental filling. The procedure is a simple one. We first numb the tooth to keep you comfortable, and then we remove all decay for the tooth and clean it. Next, we apply the filling material. Instead of metal, we use a composite resin, which can be shaded to blend with the tooth and is safe for people of all ages. We apply the material and then as it cures under a light, we sculpt and mold the tooth for a balanced bite and an attractive appearance. The last step is to polish the tooth for a brighter appearance. The entire process only takes one visit!
Avoiding Future Cavities
What can be done to limit the risk of tooth decay? To help safeguard your smile, try to brush twice a day for two minutes, using a fluoride toothpaste when you do. You also need to floss every evening, and try to cut back on your consumption of sugary foods and drinks. Finally, make time to see us for a checkup and cleaning visit every six months. These actions help keep your smile safe! If you have any questions, then give us a call today.
Do You Have Questions About Treating Tooth Decay?
Our team is ready to help you enjoy good oral health. You can schedule a consultation to talk about solutions for a dental cavity, and more by calling Brighton Family Dental Group in Brighton, MA, today at (617) 562-5210. We proudly welcome patients from Cambridge, Brookline, Newton, and all surrounding communities.