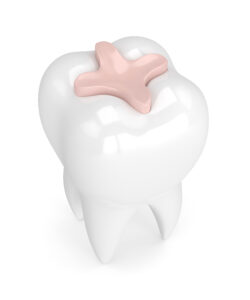 A dental filling can treat tooth decay to prevent major complications with your smile, including infected teeth or even tooth loss. Instead of using metal, our team can provide a lifelike option created with composite resin. In today's blog, your Brighton, MA, dentists talk about treating tooth decay with natural-looking dental fillings.
The Warning Signs of Tooth Decay
How does one know they have a cavity? If you attend regular six-month checkup visits, then we will likely identify the issue in the earliest stages of demineralization, before you experience discomfort. Otherwise, you may not know a filling is necessary until you have tooth sensitivity to hot and cold foods and drinks, or a persistent toothache. When you have pain in your smile, this could mean your tooth decay is reaching an advanced stage, one that means dental infection isn't far off. Treatment is crucial to avoid risking the health and stability of your tooth!
Dental Fillings
Creating and placing a dental filling offers a lifelike and durable solution to cavities. We first take time to numb the area with a local anesthetic. We then create the material from a metal-free composite resin, which can be color matched to blend with the smile. The material is then applied in several layers. As we cure it under a special light, we sculpt and mold it to ensure a balanced bite and a lifelike appearance. The last step is to polish it for a brighter look. The whole process takes one visit, and brings relief from toothaches and prevents the onset of dental infection.
Cavity Prevention
You and your family can also take steps to help prevent the onset of cavities. For example, be sure to brush and floss daily, as this helps remove trapped food and drink particles to limit plaque buildup and prevent the onset of cavities. You should also cut back on the consumption of sugary and starchy foods and drinks. Finally, a visit for a dental cleaning every six months allows our team to keep an eye on your smile and remove all plaque and tartar, fighting not only cavities, but also gingivitis, gum disease, bad breath, and stained teeth.
If you have any questions about how to treat cavities in one visit with a lifelike restoration, then contact our team today to learn more. We want to help you enjoy a healthy and whole smile for years to come!
Do You Have Questions About Custom Restorations?
We want to help prevent a cavity from causing infection and discomfort! You can schedule a consultation for lifelike dental fillings and more by calling Brighton Family Dental Group in Brighton, MA, today at (617) 562-5210. We proudly welcome patients from Brighton, Watertown, and all surrounding communities.