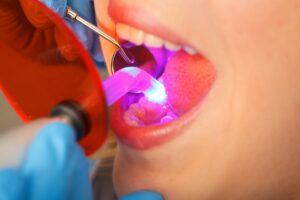 When a cavity forms in your smile, we want to offer care to avoid an infected or abscessed tooth. In only one visit, we can create and place a lifelike dental filling that is metal-free. In today's blog, your Brighton, MA, dentist discusses how we provide restorations to protect smiles and put a stop to a dental cavity.
When to Seek Cavity Treatment
If you attend regular six-month checkup and cleaning visits, then you will likely have your cavity identified and treated in the earliest stages, before you experience discomfort. Without these visits, you may not realize something is wrong until you notice persistent sensitivity when you eat or drink hot or cold foods and drinks, or when you have a toothache that doesn't pass after a few hours. When you have pain, let us know so we can diagnose your smile. Without treatment, cavities could grow in severity until a tooth becomes infected, and in some cases, lost.
Creating a Lifelike Dental Filling
We want to offer a treatment that not only prevents infection, but also blends with your smile. Instead of metal, we use composite resin, a blend of glass and acrylic particles that we can color-match to blend with the smile. This is safe for people of all ages and doesn't expand or contract over time. We first administer a numbing agent to keep you comfortable, we then remove all decay for the tooth. Next, we clean the tooth and place the composite resin onto it. As we cure this material under a special light, the dentist will sculpt and mold it. The last step involves polishing the tooth for a more attractive appearance.
Protecting Your Smile
In one visit we can treat a cavity, but how can you avoid them altogether? Start by cutting back on foods and drinks high in sugars and starches, as these feed harmful bacteria and create plaque buildup, which weakens outer enamel. You also need to brush and floss daily, as this removes trapped particles of sugar and starch from the smile. You also need to see us for a checkup and cleaning, so we can watch for decay and also remove all plaque and tartar from the smile before your enamel is compromised. A visit now is a chance to use your remaining 2021 dental insurance benefits before they expire at the end of the month. If you have any questions, give us a call today.
Do You Have Questions About Placing Restorations?
We would like to provide a natural-looking solution for your cavity. To learn more about how we put a stop to your cavities, then schedule a consultation by calling Brighton Family Dental Group in Brighton, MA, today at (617) 562-5210. We proudly welcome patients from Brookline, Newton, and all surrounding communities.