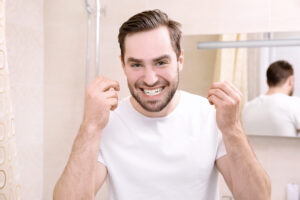 Often, even if people take time to brush each day, they may neglect to floss. Cleaning your teeth (and between them) is necessary to avoid complications like tooth decay and gum disease. In today's blog, your Brighton, MA, dentists offer tips for daily brushing and flossing, and recommend when to see us for a checkup and cleaning.
Brushing Your Teeth
First, let's cover proper tooth brushing just in case. You should be doing this when you wake up and then once again before going to bed, with each session lasting about two minutes. You should always use a pea-sized amount of fluoride toothpaste, as this helps strengthen the outer enamel. You can use an electric or manual toothbrush, just as long as you clean your teeth properly for two minutes. But! We do recommend soft bristles, as people who clean too rough with medium or hard bristles could weaken enamel or even cause slight gum recession.
Cleaning Between Your Teeth
Now, let's talk about the steps people often skip. Flossing is absolutely crucial for safeguarding your oral health. Your toothbrush is effective, but cannot reach the particles trapped between the teeth, or along the gum line between the teeth. Without removal, these particles will be broken down by bacteria in a process that causes not only tooth decay, but gingivitis and even gum disease as well. You should take an 18-inch to 20-inch length of floss tape, and wrap each end around your thumb. Then hold it tight with your index fingers. Run the tape up and down each side of every tooth, dipping below the gum line when you do. Then adjust your grip on the tape to use a clean piece for each tooth. You can use a floss pick if this is easier, or a water flosser.
When to See Our Team
Daily care helps protect the smile, but this cannot remove all plaque and tartar buildup. To do this, you need to see us every six months. A checkup means monitoring your smile for signs of trouble, and a cleaning means we gently remove all plaque and tartar to safeguard the smile. If you have any questions about brushing and flossing at home, or about our professional exams and dental cleanings, then contact our team today. We look forward to seeing you at your next appointment, so give us a call soon!
Talk to Our Team Today
Our team wants to make sure you know how to care for your teeth and gums from home. You can schedule a consultation for a checkup or cleaning, and more by calling Brighton Family Dental Group in Brighton, MA, today at (617) 562-5210. We proudly welcome patients from Brighton, Watertown, and all surrounding communities.