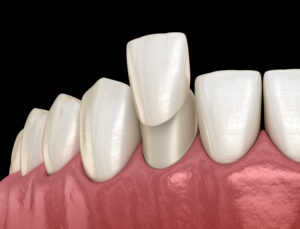 In just two visits, we can offer what amounts to a smile makeover using one or more of our porcelain veneers. These cosmetic restorations are thin, custom made, and lifelike in appearance. In today's blog, your Brighton, MA, dentists talk about how we create a new smile in just two sittings with these restorations.
The Potential That Venerers Provide
Since each veneer covers the front and sides of a tooth, this allows us to make instant changes to shape and color. For example, we can mask permanent teeth stains, the kind that could withstand most whitening treatments. We can also close unsightly gaps between teeth, lengthen worn down ones, and repair moor chips and cracks. This also helps us reshape misshapen teeth, and also correct the appearance of misalignment too. For many, this means major changes to the beauty of the smile, and these changes could last decades with proper care and attention.
Creating and Placing Your Thin Restorations
Each one we place will be custom-made to ensure a lifelike and natural appearance. To begin, we will numb the tooth and carefully remove a thin layer from outside of it. This makes room for the cosmetic restoration. Next, we take detailed digital images to create a 3D impression, one that will be used to design and craft the restorations. When ready, we affix them to the front of the teeth with a powerful bonding agent. Daily brushing and flossing, visits for checkups and cleanings, and a healthy diet can keep them bright and strong, and also protect the rest of your smile too.
Other Cosmetic Treatments
For a true smile makeover, we could whiten the teeth beforehand to ensure they match your brightest possible smile. We could also reserve the veneers for the front facing teeth, and use bonding and contouring to address the side and rear teeth, providing a more cost-effective smile makeover. We can also discuss treating misalignment with clear aligners, and provide cosmetic restorations like porcelain crowns and composite resin fillings to address oral health issues like tooth decay and infection.
If you have any questions about how we approach a smile transformation, or if you would like to learn more about our various cosmetic treatments and lifelike restorations, then contact our team today. We would love to help you make big changes to your smile!
Do You Have Questions About Cosmetic Dentistry?
Our team is eager to help you obtain a stunning and bright smile with cosmetic dentistry! You can schedule a consultation for lifelike dental fillings and more by calling Brighton Family Dental Group in Brighton, MA, today at (617) 562-5210. We proudly welcome patients from Brighton, Watertown, and all surrounding communities.