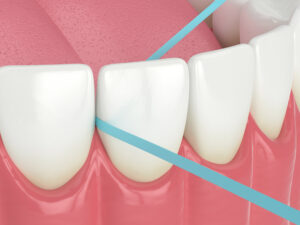 In our last blog, we took a close look at brushing your teeth and how to do so properly. In today's blog, we want to continue that process with a focus on proper flossing. As your Brighton, MA, dentists will explain, this is crucial for keeping your smile healthy and strong! In fact, this could help keep gum disease at bay.
Cleaning Between Your Teeth
When we eat and drink, particles can become trapped between our teeth. If these come from foods and drinks with high amounts of sugar and starch, they can be broken down by bacteria. This elevates oral acidity and creates plaque buildup, which then weakens enamel and irritates gum tissues, boosting your risk of tooth decay and gum disease, and bad breath and stained teeth too. Brushing removes them from the surfaces, but likely can't reach what is between your teeth. Which is why every evening you need to thoroughly floss your smile.
Picking the Right Floss
What option is right for you? If you're just starting to clean between your teeth, or if you have limited dexterity, then a pick is often easy to use. Most people use tape, taking a 20-inch length of it, wrapping each end around a thumb, and holding it tight with your index fingers. You then adjust your grip to use a clean portion of tape for each tooth. Others may even spring for a water flosser. No matter what you use, make sure you're cleaning up and down each side of every tooth, and dipping below the gum line in a "c" motion. This dislodges what is trapped between your teeth or in the gum line, reducing the risk of inflammation and disease in the coming months and years. Kids should start this process as soon as there are teeth sitting side-by-side.
Checkups and Cleanings
While brushing and flossing help limit plaque buildup to remove the harmful layers you need to have a cleaning every six months. This allows our team to remove the buildup and polish the teeth. We also examine your teeth and gums for signs of decay or disease, so treatment can be administered to protect your smile from worsening discomfort or complications. If you have any questions about caring for your smile each day, then contact our team today to learn more. We would love to help you enjoy good oral health!
Do You Have Questions About Caring for Your Smile?
Taking time each day to protect your smile lowers the risk of gum disease, tooth loss, and more. To learn more about protecting your smile from home, then schedule a consultation by calling Brighton Family Dental Group in Brighton, MA, today at (617) 562-5210. We proudly welcome patients from Brookline, Newton, and all surrounding communities.