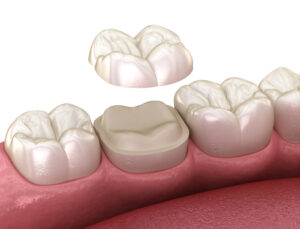 When you have an oral health issue too severe for a simple dental filling, you may need a dental crown. We have both full and partial options available to repair and restore your smile. In today's blog, your Brighton, MA, dentists look at the difference between our lifelike and custom full and partial dental crowns.
When You Need Restoration
When you have a cavity that has grown too severe for a filling, or damage to your teeth that cannot be addressed with dental bonding or contouring alone, then you may need a more substantial restoration. We use dental crowns to address these issues, protecting your smile from complications like worsening decay or infection, which helps you avoid tooth loss. In addition, each one is custom-made for your smile, crafted based on detailed digital images we take of your teeth to ensure the finished product fits comfortably, looks natural, and provides a balanced bite.
Full Crowns
A full crown covers the entire visible portion of your tooth, everything above the gum line. We can craft them from lifelike material such as ceramic, and use them to lengthen worn down teeth, repair cracks or chips, and reshape malformed teeth. For advanced decay or infection, they could complete a root canal to restore your smile to optimal health, function, and beauty. If you have missing teeth, we even employed them to secure a dental bridge or to restore a single tooth dental implant.
Inlays and Onlays
We also have partial options with inlay and onlays. The inlays fit in between the cusps on top of the teeth, while the onlays fit over the cusps. Each is again custom-made from materials like ceramic and shaded to blend with the surrounding tooth structure. These repairs halt discomfort and prevents complications, but also allows you to laugh and smile with confidence. These could address tooth decay and minor injuries that are still too severe for treatments like dental bonding, but not serious enough to require a full crown. If you have any questions about how we design and craft these repair options, then please contact our team today to learn more.
Remember, now is a great time to see us because you can put your dental benefits to good use before they expire at the end of the month. We would love to help you greet a new year with a new smile!
Do You Have Questions About Restorative Dentistry?
Our team wants to help you avoid the onset of tooth decay or dental infection. To learn more about how we restore the health, function, and beauty of your smile, then schedule a consultation by calling Brighton Family Dental Group in Brighton, MA, today at (617) 562-5210. We proudly welcome patients from Brookline, Newton, and all surrounding communities.