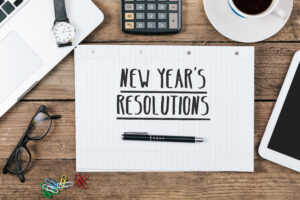 With the end of the year days away, you're likely making a few resolutions for 2023. We don't want you to forget about your smile! A few simple changes to your daily routine could help protect your smile from cavities and more. In today's blog, your Brighton, MA, dentists talk about improving oral health.
Brushing and Flossing
First, why not make a resolution to improve how you care for your teeth each day. To begin, make sure you're taking the time to not only brush in the morning and at night, but to do so for at least two minutes. You can time yourself with a song, video, or even a sand timer. Be sure you use a toothbrush that has soft bristles, as this prevents inadvertent enamel damage or gum recession. An electric or manual option is effective when used properly, so suits your preference. As for toothpaste, be sure it contains fluoride, as this helps fortify the outer enamel and prevent cavities. You can look for the American Dental Association's Seal of Acceptance on the packaging!
We also urge people to floss every evening, as this removes the bits of food and drink particles that a toothbrush alone may not remove. You should take your floss and clean up and down each side of every tooth, remove the trapped particles. Be sure you dip below the gum line too!
A Healthier Diet
Resolve to eat healthier too! A diet high in fresh fruits and veggies, whole grain breads, and plenty of vitamin C can help strengthen the teeth. Cutting back on sugar and starch can help too, as these particles are often consumed by bacteria to create plaque buildup and weaken your smile's health. Fewer chips, candies, chocolates, soda, energy drinks, and sports drinks can all lead to a lower risk of cavities!
Checkups and Cleanings
You should also take time to see our team for a checkup and cleaning every six months. A checkup is a chance to examine the smile for signs of trouble, and address these concerns quickly before they threaten smile stability. A cleaning means we remove all plaque and tartar to lower the risk of bad breath, teeth stains, cavities, and even gingivitis and gum disease. If you have any questions about keeping your smiles healthy during the new year, then contact our team today to learn more.
Do You Have Questions About Caring for Your Smile?
See us to start a new year with a healthier smile. You can schedule a consultation to set up your next appointment, and more by calling Brighton Family Dental Group in Brighton, MA, today at (617) 562-5210. We proudly welcome patients from Brighton, Watertown, Cambridge, Brookline, and all surrounding communities.