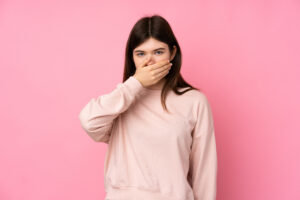 We recently talked about regular dental cleanings to protect your oral health. But what if you have high risk factors for periodontal disease? To help manage the early stages and prevent complications like tooth loss, you might enjoy periodontal cleanings. In today's blog, your Brighton, MA, dentists talk about scaling and root planing.
The Causes and Dangers of Gum Disease
Periodontal disease often begins as inflammation, or gingivitis. This could develop due to poor oral hygiene habits, which allow plaque buildup to form and then threaten the gum tissues. Other factors include smoking cigarettes and other tobacco use, lack of dental cleanings, a family history of the disease, and inflammatory illnesses and certain medications. Without treatment, the inflammation could cause soreness, redness, and bleeding. Once the gums pull away from the teeth, this forms pockets for bacteria to enter. The disease then begins, and cannot be cured once it does. However, we can manage it to prevent worsening symptoms and to avoid the risk of tooth loss.
Scaling and Root Planing
If you have experienced symptoms of inflammation, then we suggest a deep cleaning, also known as a scaling and root planing. This involves using an ultrasonic scaling device and a manual tool to gently break up and remove all plaque and tartar buildup from not just the teeth, but the roots as well. Depending on the severity of your buildup, this could take one visit or up to four. We will numb your smile beforehand to keep you comfortable, and we complete the procedure by polishing the teeth. The procedure can reverse gingivitis, and also help manage gum disease so moving forward we can perform traditional cleaning every three to four months to prevent inflammation and painful symptoms.
A Preventive Approach
You can also take steps to help lower your risk of the disease. First, cut back on sugary food and drinks, or food high in starch, as they leave behind particles to feed bacteria and cause plaque buildup. Be sure you brush your teeth in the morning and again at night for two minutes. You also need to floss every evening as well. Be sure you visit us for checkups and cleanings every six months too! If you have any questions about managing your gum health and keeping your smile whole, then contact our team today.
Do You Have Questions About Avoiding Periodontal Disease?
Our team is eager to help you avoid the issues related to gum disease. You can schedule a consultation to set up your next appointment, and more by calling Brighton Family Dental Group in Brighton, MA, today at (617) 562-5210. We proudly welcome patients from Brighton, Watertown, Cambridge, Brookline, and all surrounding communities.