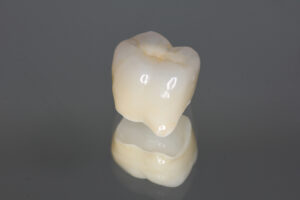 Dental crowns cap the entire visible portion of a tooth, which is why we use them to address a variety of restorative and even cosmetic issues. Our team even uses them to address missing teeth too. In today's blog, your Brighton, MA, dentists talk about how we create and place them!
When a Tooth Benefits from Restoring
The crown completely covers the visible portion of your tooth, which enables them to address minor and severe restorative issues, and even offer cosmetic improvement as well. For example, we can place them to treat cracked or chipped teeth, lengthen worn down teeth, and even help address misshapen teeth too. We can also address tooth decay too severe for a filling, or complete a root canal procedure to treat an infection or abscess. As we will discuss further on, they can even aid in tooth replacement! Placement has also been shown to improve bite balance and chewing function as well, helping you avoid complications like TMJ disorder and bruxism (chronic teeth grinding).
Creating Lifelike Dental Crowns
Each one is custom-made for your smile, so we start with a throughout exam to see if you benefit from placement. If so, we next administer a local anesthetic and then gently remove structure from the outside of the tooth. Detailed digital images and impressions will be taken of it, and used to design and craft the restoration. We use materials like ceramic or zirconia, which not only absorb daily bite forces, but also have the ability to be color-matched, so they blend with the rest of your smile seamlessly. Each one we place will be custom-made for your smile!
Bridges and Implant Restorations
If you have minor tooth loss, we could use them to support a dental bridge, anchoring the new teeth firmly into place and helping you address between one and up to three missing teeth in a row. We could also address your tooth loss with a lifelike and long-lasting dental implant. We insert the post, which acts as a new root, into the jawbone. We then connect an abutment to the post so we can attach the crown. This restoration will act as your tooth's visible potion, offering a durable chewing surface and a natural appearance, blending with your smile.
If you have any questions about treating damaged, decayed, or missing teeth with a dental crown, then contact our team today.
Do You Have Questions About Restorative Dentistry?
Our team wants to help restore teeth to optimal function, health, and beauty with a custom restoration! You can schedule a consultation for dental crowns and more by calling Brighton Family Dental Group in Brighton, MA, today at (617) 562-5210. We proudly welcome patients from Brighton, Watertown, and all surrounding communities.