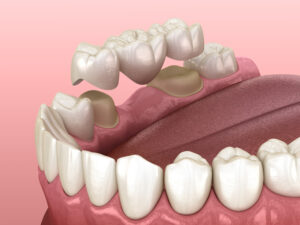 We don't believe in a one-size-fits-all approach to dentistry, which is why our restorations and even our prosthetics are custom-made for your smile. If you have lost a tooth, then a bridge custom-fitted for your smile could help. In today's blog, your Brighton, MA, dentists discuss how we craft your custom bridge.
The Causes of Your Tooth Loss
We could lose our teeth to accidents or injury, or due to untreated decay or infection that causes them to fall out or require extraction to protect the rest of your smile. The most common cause is actually periodontitis, the advanced stage of gum disease. When we lose even one tooth, this could upset the balance of the bite and strain the jaw joints, so painful disorders like TMD or bruxism (teeth grinding) could develop. Misalignment could also occur as surrounding teeth drift from position. To fill the gap and improve the health and beauty of your smile, we may prescribe a dental bridge.
Creating Your Dental Bridge
To begin, we need to address any underlying factors behind your tooth loss. We then take detailed images of your smile with digital scanning technology. The images we create will be used in a lab setting to design and craft the finished product. Each bridge contains the new teeth, or pontics, with dental crowns attached to each end. We use materials like ceramic to create them, as ceramic looks like natural tooth structure and can be shaded to blend with your smile. The finished product will also be able to support a balanced bite and absorb daily bite forces.
Attaching Your Prosthetic
For traditional options, we attach the crowns to the abutment teeth, or the natural teeth on either side of the gap. Doing so requires us to remove structure from these teeth. However, we could also insert dental implants and attach the crowns to these. The traditional abutment-secured options last about 10 to 15 years, requiring replacement as the jaw ridge changes shape. The implant option stimulates the growth of jawbone tissue, so your new prosthetic could last for decades to come. If you have any questions about replacing your missing teeth, or which bridge would work best for you, then contact our team today to learn more. We want to help you greet 2022 with a full smile again, one that you can't wait to show off to the world.
Do You Have Questions About Treating Tooth Loss?
We would like to help you enjoy a full smile once again. To learn more about the process of treating missing teeth and creating a prosthetic that looks and functions like a natural one, then schedule a consultation by calling Brighton Family Dental Group in Brighton, MA, today at (617) 562-5210. We proudly welcome patients from Brookline, Newton, and all surrounding communities.