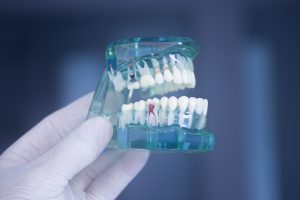 When a tooth is infected, this could not only cause discomfort, but could lead to tooth loss. In today's blog, your Brighton, MA, dentists talk about how we treat an infection with an endodontic procedure. A root canal is not only a comfortable procedure, but one that could save your tooth from being lost!
The Causes of a Dental Infection
At the center of every tooth is a collection of living tissues, which keeps the tooth functional, controlling the flow of blood and nutrients to and from the tooth through the root canals. An infection means that harmful oral bacteria has come into contact with the pulp, either through an untreated cavity or possibly a broken or cracked tooth. Warning signs include pain when you chew or bite down, a persistent toothache, swelling near the tooth, headache and jaw pain, or a discharge from the tooth itself. When you experience these symptoms let us know right away. Treatment could prevent the tooth from becoming lost or requiring extraction to prevent the spread of infection.
Root Canal Treatments
The root canal treatment starts with measures to keep you comfortable, such as local anesthetic and even dental sedation. Once you're comfortable, our team will open the tooth to remove the infected tissues from within. Once we do this, we will clean the interior of the tooth and the root canals. A medicated filling material is placed, and the tooth is then capped with a custom-made dental crown. The crown protects the remaining tooth structure, and also provides a lifelike appearance, blending with your smile. The process helps preserve your smile and provide instant relief!
Avoiding Future Infections or Cavities
To lower the risk of cavities and dental infections, you should take good care of your teeth each and every day. For example, be sure you brush your teeth twice a day, in the morning and at night, for two minutes each time. You also need to use a fluoride toothpaste to help strengthen the outer enamel. Flossing every evening is helpful too, as this removes bits of food beyond the reach of a toothbrush. You should consider a visit every six months for a checkup and cleaning too. In fact, scheduling one now let's you use your 2021 dental insurance benefits before they expire, and lets us offer care before the busy holiday season starts!
Do You Have Questions About Endodontic Treatment?
We would like to help treat the causes of your discomfort. To learn more about the process of treating an infected tooth, then schedule a consultation by calling Brighton Family Dental Group in Brighton, MA, today at (617) 562-5210. We proudly welcome patients from Brookline, Newton, and all surrounding communities.