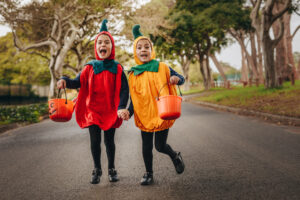 Tooth decay is always a risk for kids and adults following Halloween. Too much sugar could leave your teeth with toothaches and an increased risk of infection! In today's blog, your Brighton, MA, dentists talk about how to protect smiles from the onset of Halloween cavities, and still enjoy your trick or treating fun.
Candy and Tooth Decay
When we consume too much candy, this could leave behind sugar particles clinging to the teeth or trapped between them. For all ages, this means bacteria will break down the particles and as a result, coat the teeth in harmful plaque buildup. This hardens with time into tartar, and could weaken outer enamel to make cavities more likely. Toothaches and tooth sensitivity could then develop, and without treatment the risk of infection will increase with time. Which is why during this spooky time of year, and in the subsequent holiday season, action is necessary to help prevent tooth decay.
Steps to Take at Home
At home, be sure to limit you and your children's consumption of candy. Enjoy a piece or two each day, right after dinner so the increased saliva production can help remove sugars. Then follow it with a glass of water to rinse the mouth! You can also let your kids pick their favorite pieces, and trade the bulk to you for a toy or small amount of money. If you're going to be handing out treats this year, you can help smiles in your community by offering non-candy options, like nuts, trail mix, granola bars, stickers, temporary tattoos, pencils, crayons, or even fun party favors like spider rings or plastic skeletons and bats. Also, be sure everyone in your household is brushing for two minutes in the morning and at night, and using a fluoride toothpaste each time to strengthen the outer enamel. Flossing every evening is essential too, as this removes what a toothbrush cannot reach.
Visit Our Team Soon
Before the holiday season complicates your daily schedule, make an appointment with our team. We will examine your smile and identify any areas of concerns so we can provide treatment. We will also clean the teeth, removing all plaque and tartar and polishing your smile to keep cavities at bay. You should see us now to also use your 2022 dental insurance benefits before they expire at the end of the year!
Do You Have Questions About Avoiding Cavities?
We're ready to help you and your family enjoy optimal oral health. You can schedule a consultation to set up your next appointment, and more by calling Brighton Family Dental Group in Brighton, MA, today at (617) 562-5210. We proudly welcome patients from Brighton, Watertown, Cambridge, Brookline, and all surrounding communities.